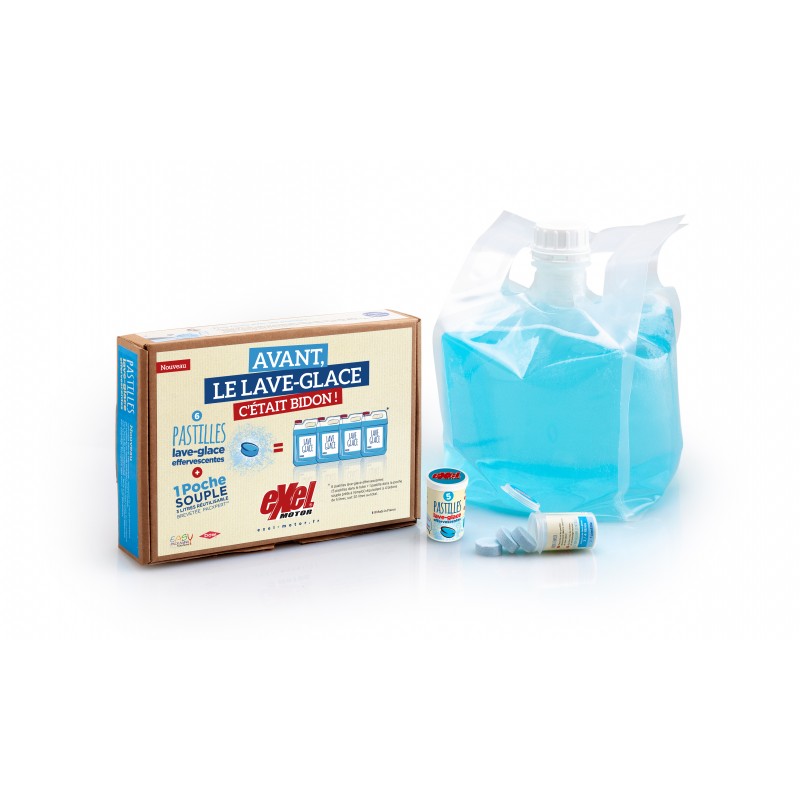  
EXEL ICE WASH® - POCKET BAG KIT + TABLETS
FREE SHIPPING FROM 45 € OF PURCHASE !
EFFERVESCENT ICE WASH TABLETS KIT + PATXPERT ™ PATENTED 3L REUSABLE POUCH
AVAILABLE REFILLS
Exel Motor LAVE-GLACE®, a concentrate of effervescent active agents, cleaners and "anti-freeze" to form an effective anti-freeze washer fluid ready for use.
THE PROPERTIES AND ACTIONS OF EXEL LAVE-GLACE®:
The Exel Lave Glace® KIT is composed of 6 pellets in the kit: 5 in the tube and 1 in the ready-to-use flexible bag (reusable 3-liter flexible bag). Slip into the glove box, this kit is very compact and allows to obtain the equivalent of 18 liters of washer! + Practical + Economic + Ecological. (Refill tube of 5 pellets or jar of 100 pellets available).
In the form of pellets for simpler and more convenient use than traditional packaging, our solution is easy to store and can even fit into your glove box.
PATXPERT ™ PATENTED 3L SOFT POUCH Reusable: = Less packaging = Less waste!
No alcohol, no phosphate, biodegradable = No pollution!
A suitable dosage also makes it possible to obtain an anti-freeze washer fluid for the winter.
HOW TO USE EXEL LAVE-GLACE®?
A very simple use: 1 tablet for 3 to 4 liters
Place the pellet (s) directly into the washer reservoir.
Add the water to the pouch (or other container if you have not purchased the KIT) and pour into the washer reservoir.
Close the box well after use.
Practical option: For an advance preparation of a windshield washer, allow about 15 minutes for complete dissolution.
COMPOSITION :
Nonionic and anionic surfactants, mineral salts, effervescent and antifreeze agents. Do not swallow. Keep out of reach of children.
Reviews
(2)
K JEROME




IP: 82.242.161.226





mai 7, 2019




Excellent produit

Je recommande ce produit tout a fait conforme a mes attentes et recu dans les temps, Merci à Vous.
Jo




IP: 188.61.200.133





avril 13, 2019




Taxi

Super, plus besoin de garder un jerrycan dans le coffre ou d avoir a jeter un gros bidon de plastique