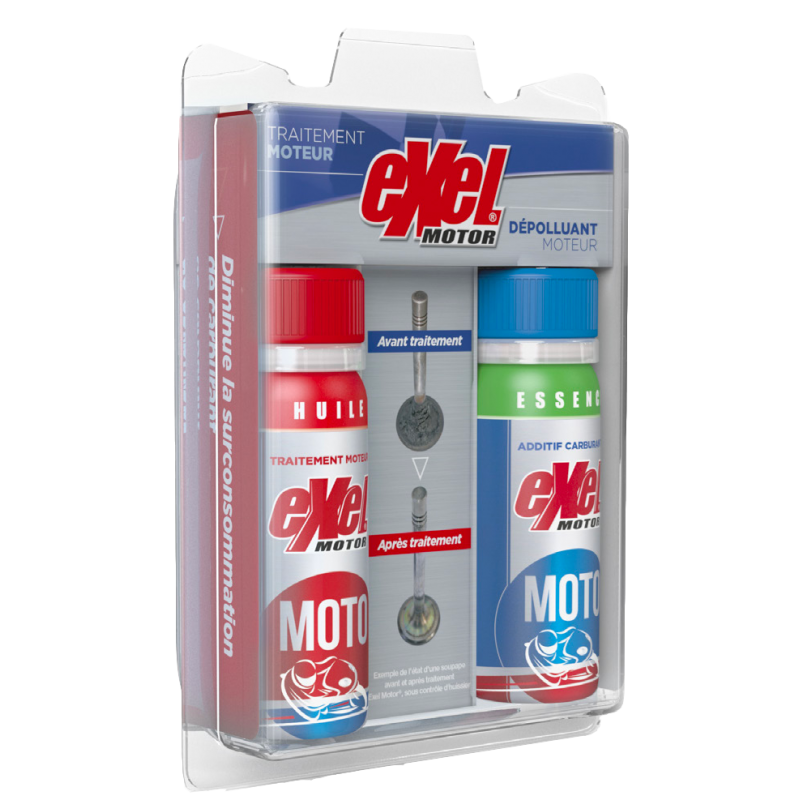  
EXEL MOTOR® MOTO
100% secure payments
FREE SHIPPING FROM 45 € OF PURCHASE !
SPECIAL MOTO MOTOR TREATMENT
GASOLINE - 2X50ML
Exel Motor® Moto is a long-lasting, comprehensive engine treatment SPECIFIC for motorcycles.
THE PROPERTIES AND ACTIONS OF EXEL MOTOR3® MOTORCYCLE: A TREATMENT OF THE LOW AND HIGH MOTOR
Cleans and protects the low engine: the lubrication circuit, cleans the grooves and the low segmentation of the engine.
Cleans and protects the low high engine: high segmentation, combustion chamber, injectors or carburetors, injection system and valves for 10,000 km.
Unclogs and completely protects the top and bottom engine (deposits a protective film on all parts of the engine).
Eliminates overconsumption of fuel due to engine fouling and injector or carburetor malfunction.
Restores the proper functioning of the injectors and protects them against corrosion in the long term thanks to antioxidants, reduces pollutant emissions to manufacturers standards.
The efficiency of the engine is optimized, which reduces both its overconsumption of fuel and its polluting emissions.
WHEN TO USE IT?
Double treatment high and low engine (2x50 ml), high-tech concentrate from petrochemistry:
Facilitates compliance for technical inspection
To use during a drain (ideal)
FOR WHO ?
This product is particularly suitable for motorcycles over 3 years old (or having traveled more than 20000 km).
Suitable for all engine technologies.
HOW TO USE EXEL MOTOR® MOTO:
Exel Motor® Moto comes in the form of 2 bottles: Bottle 1 ("shock" treatment of gasoline) and bottle 2 (specific treatment of the lubricant) are used at the same time during a maintenance operation of your motorcycle.
PHASE 1: Pour the contents of vial 1 (50ml) into the fuel tank before refueling.
ACTION OF FLASK DOSE 1 in the fuel (high engine):
Cleans and protects the injection pump, the carburetor, the injectors, the valves (protection of the valve guides), the various filters, the combustion chamber and creates a protective and anti-friction film that adheres to the metal surfaces and limits any new deposits.
PHASE 2: Pour the contents of dose vial 2 through the oil pan fill hole.
ACTION OF FLASK DOSE 2 in the sump (low engine):
Cleans and protects sealing rings, scraper rings, lubrication system, crankcase (crankshaft, connecting rod bearings) and provides anti-friction protection that adheres to metal surfaces and reduces wear.
Reviews
(0)
No customer reviews for the moment.