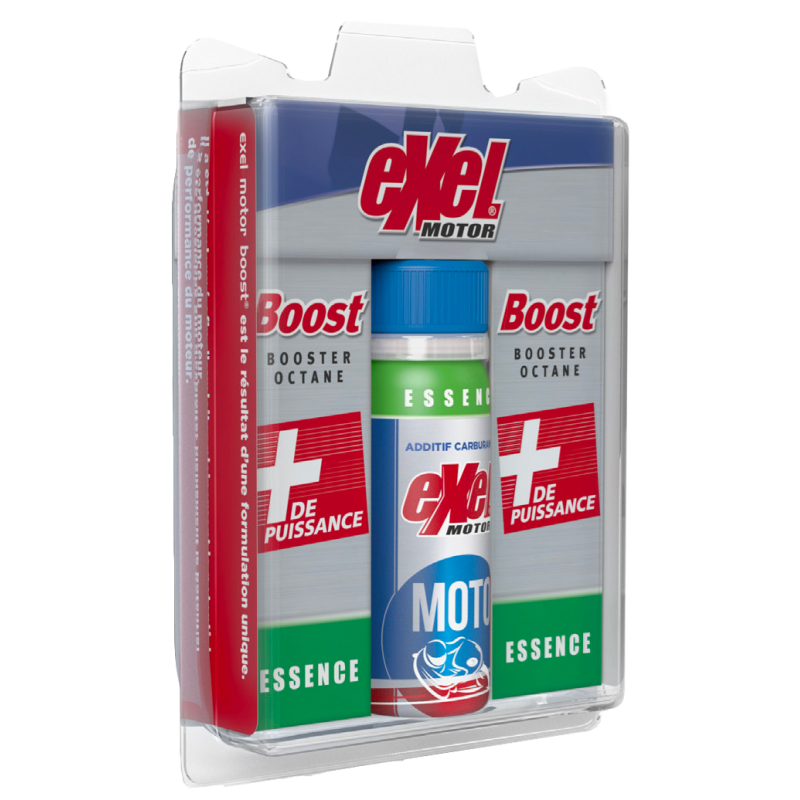  
EXEL OCTANE BOOSTER MOTO
100% secure payments
FREE SHIPPING FROM 45 € OF PURCHASE !
ENGINE TREATMENT "SPECIAL MOTORBIKE"
GASOLINE - 50ml
Exel Moto Octane Booster® is an additive to improve the octane rating of fuels and thus the performance of engines.
THE PROPERTIES AND ACTIONS OF EXEL MOTOR3® MOTORCYCLE: A TREATMENT OF THE LOW AND HIGH MOTOR
Cleans and protects the low engine: the lubrication circuit, cleans the grooves and the low segmentation of the engine.
Cleans and protects the low high engine: high segmentation, combustion chamber, injectors or carburetors, injection system and valves for 10,000 km.
Unclogs and completely protects the top and bottom engine (deposits a protective film on all parts of the engine).
Eliminates overconsumption of fuel due to engine fouling and injector or carburetor malfunction.
Restores the proper functioning of the injectors and protects them against corrosion in the long term thanks to antioxidants, reduces pollutant emissions to manufacturers standards.
The efficiency of the engine is optimized, which reduces both its overconsumption of fuel and its polluting emissions.
WHEN TO USE IT?
Competition engine treatment, high-tech concentrate from petrochemistry:
In sports or current use.
FOR WHO ?
Compatible with all gasoline engines, even those equipped with a catalytic converter. EXEL OCTANE BOOSTER does not contain lead.
HOW TO USE EXEL OCTANE BOOSTER® MOTO?
Pour the contents of the bottle into the fuel tank of your motorcycle.
Effective during 2 full of fuel. Do not wait until the fuel runs out to fill the second tank.
Recommended dosage (for sport use):
For everyday use: 1 bottle of 50 ml treats 20 liters of fuel. For a result of a 2-point increase in octane number.
For sports use: 1 bottle of 50 ml treats 12 liters of fuel. For a result of a 3-point increase in octane number.
Reviews
(0)
No customer reviews for the moment.