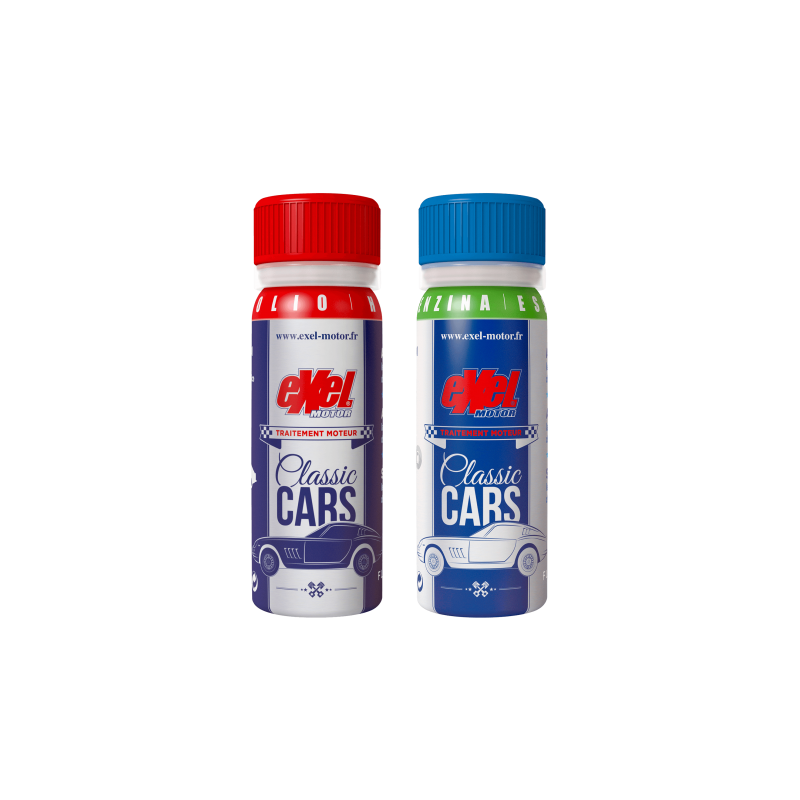  
EXEL CLASSIC CARS® - 2 x 65ml
100% secure payments
FREE SHIPPING FROM 45 € OF PURCHASE !
ENGINE TREATMENT CLASSIC CARS
GASOLINE - Bi-dose (2x65ml)
Exel Classic Cars is a double integral high and low motor treatment. It also contains additives that improve the octane rating by more than 3 points.
THE PROPERTIES AND ACTIONS OF EXEL CLASSIC CARS®: AN ENGINE TREATMENT FOR HISTORIC VEHICLES
Specifically designed for historic vehicles, our Exel Classic Cars products provide effective cleaning of the engine's clogged parts. Its lubricating action makes it possible to clean and protect moving parts to optimize the performance of your classic car.
Curative action
Effectively cleans the engine.
Eliminates deposits of scale and other deposits.
Lowers the fuel consumption of your vehicle
Reduces pollutant emissions.
Preventive action
Protects moving parts
Improves the anti-friction nature of the engine.
Improves the anti-wear nature of the engine lubricant.
WHEN TO USE IT?
Engine Treatment for your classic car, concentrated (2x65ml) high technology from petrochemistry:
Maintenance
competition use
FOR WHO ?
Classic car
Old competition car
4 cylinders
HOW TO USE EXEL CLASSIC CAR®?
The use of Exel Classic Cars is very simple, just pour the contents of our bottles into your fuel tank during a maintenance operation of your car!
PHASE 1 : FLASK DOSE 1 in fuel (blue fuel cap): Before refueling, pour vial 1 (blue cap) into the fuel tank (20 to 40 liters).

ACTION OF BOTTLE DOSE 1: By dispersing detergent effect, it effectively cleans the fouled parts of the engine and makes it possible to eliminate the deposits present in the feeding system (varnish, calamine etc.).
PHASE 2 : FLASK DOSE 2 in the oil sump (red cap oil): Before refueling, pour vial 2 (red cap) into the sump.

ACTION OF FLASK DOSE 2: Cleans and protects the moving parts and at the same time improves the anti-friction and anti-wear character of the engine lubricant.
Reviews
(1)
Bonnery Laurent




IP: 194.199.224.130





juil. 9, 2019




Essai sur Renault 5 TL de 1972

Le moteur (47 ans et 85 000km) sonne clair, il reprend mieux à bas régime et le ralenti est très stable.
Aucune fumée n'est à déplorer, consommation d'huile réduite à néant.

N'hésitez pas !