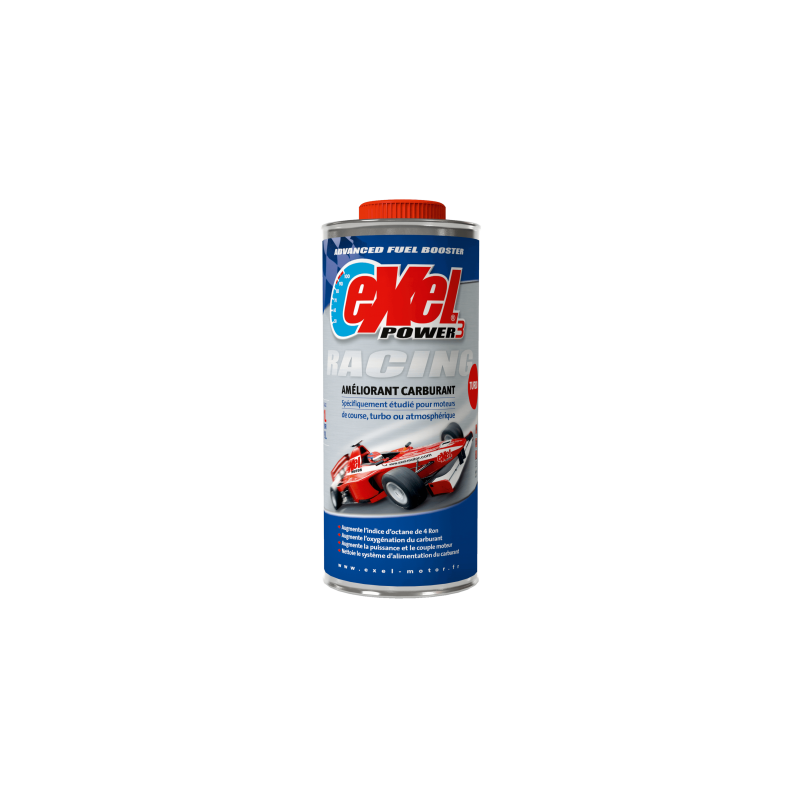  
EXEL POWER3® RACING - 1L TURBO ENGINE
100% secure payments
FREE SHIPPING FROM 45 € OF PURCHASE !
ENGINE TREATMENT COMPETITION
GASOLINE - 1L TURBO ENGINE
Exel Power3® Racing is an additive to improve fuel octane and therefore engine performance.
THE PROPERTIES AND ACTIONS OF EXEL POWER3® RACING: TREATMENT SUITABLE FOR PERFORMANCE MECHANICS
Exel Power3 Racing was developed for performance mechanics and the world of motor racing, it allows in particular to increase the power and the engine torque of your vehicle. Our formula increases the octane number by +4 Ron and increases oxygenation of the fuel.
A VERY DIFFERENT BOOSTER
Cleans and keeps the engine and the fuel system clean
Increases engine torque up to 3kg
Reduces fuel consumption
Increases engine power by up to 18% more power
Do not attack the fuel filter.
Improves the response time of the motor to acceleration.
Removes rattling that is present in this phase.
Reduces the combustion temperature of the soot particles.
TRANSPORT AND SIMPLIFIED STORAGE
Ease of purchase in cans of 500 ml, 1 liter and 20 liters, instead of 100 or 200 liters.
Easy storage, transport and use.
Safety: the storage and transport of fuels must meet very strict safety standards. The additive is not affected by this regulation.
WHEN TO USE IT?
FOR WHO ?

?
HOW TO USE EXEL POWER3® RACING?
Pour into the fuel ESP 98 or ESP 95.
Recommended dosage (for sport use):
1 bottle of 1 liter (TURBO ENGINE) treats 40 liters of fuel. For a result of an increase of more than 3 points of the octane number (Analysis SCS, ESP98: 101,2 - ESP95: 100,4)
Reviews
(0)
No customer reviews for the moment.