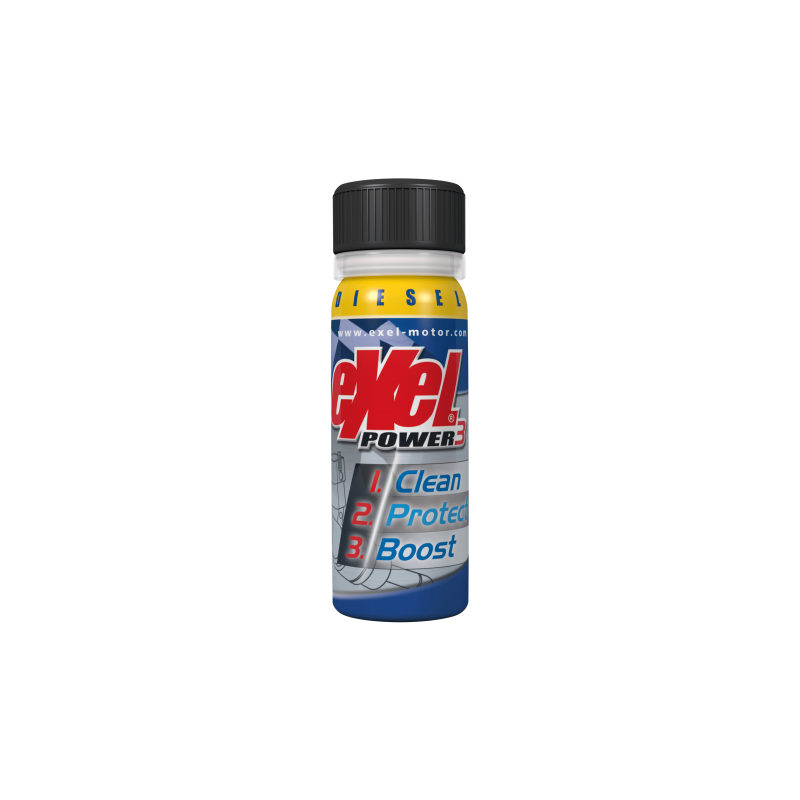  
EXEL POWER3® PREVENTIVE
100% secure payments
FREE SHIPPING FROM 45 € OF PURCHASE !
INJECTOR AND VALVES CLEANER
GASOLINE OR DIESEL - 50ML
Exel Power3® is an engine treatment and efficient cleaner for injectors and valves for gasoline or diesel vehicles.
THE PROPERTIES AND ACTIONS OF EXEL POWER3® PREVENTIVE: PREVENTIVE TREATMENT OF INJECTORS
This treatment resulting from advanced technical research is obtained by the optimized mixture of different components from fine chemistry.
Detergent
Cleans and keeps the engine and fuel system clean up to the combustion chamber.
Reduces fuel consumption.
Reduces pollutant emissions by up to 50%
Improves engine performance and cold start.
Restore the compressions.
Démulsifiante
Facilitates the separation of water (accidentally introduced into the tank) of the fuel. Very important especially for HDI and Common rail engines.
Anti corrosion
Protects the metal parts of the fuel system against rust and corrosion.
Thus limits the friction and prevents any new deposits.
Anti-wear and anti-friction
Prevents seizing of injection pumps (diesel).
Reduces friction of moving parts (valves, segments).
Reduces the wear of metal parts.
Booster Octane
Facilitates and improves combustion.
Improves the octane number.
Improves engine efficiency
WHEN TO USE IT?
Effective cleaners of injectors and valves, concentrated (50ml) of high technology from petrochemistry:
PREVENTIVE ACTION from 20,000 km
FOR WHO ?
This product is compatible with all diesel / gasoline engines and allows to clean efficiently and quickly the dirty parts of the motor and to protect them by the deposition of an effective protective film for 7500 km
It is particularly suitable for vehicles over 20 000 km.
HOW TO USE EXEL POWER3® PREVENTIVE:
Our product comes in the form of a bottle whose contents are poured into your fuel tank (1 bottle of 50ml allows you to add 50 liters of fuel).
PHASE 1: Pour the contents of the dose vial (50ml) into the fuel tank before refueling.
ACTION OF THE BOTTLE DOSE:
Facilitates and improves fuel combustion.
Improves the octane number (exel power3 Essence).
Improves engine efficiency
Reviews
(1)
B laurent




IP: 109.210.99.234





août 16, 2019




nettoyant injecteurs