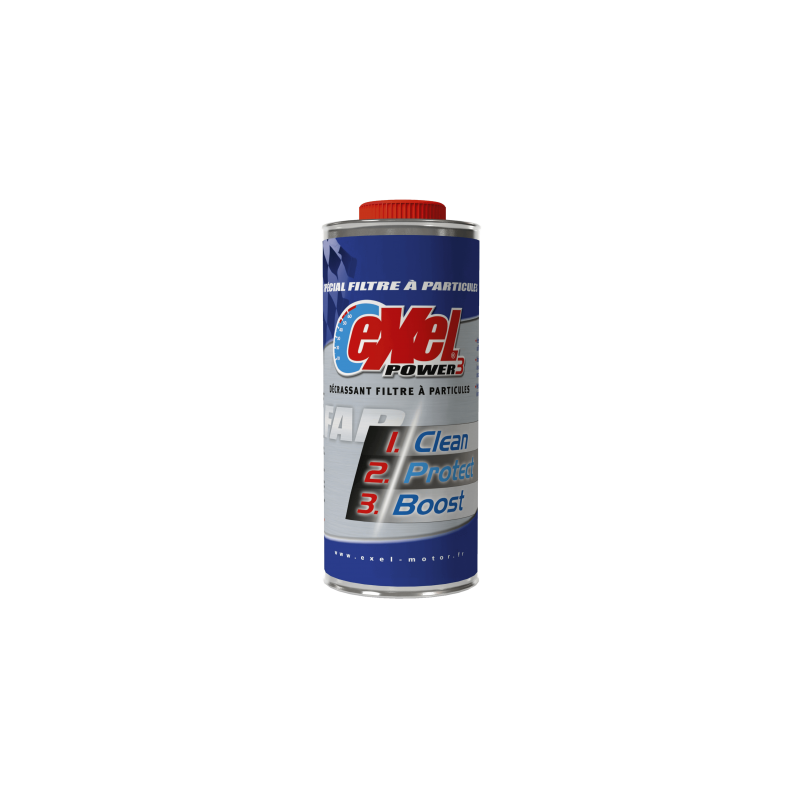  
EXEL POWER3® FAP CURATIVE
100% secure payments
FREE SHIPPING FROM 45 € OF PURCHASE !
REGENERATING CLEANER PARTICLE FILTER FOR YOUR CAR
DIESEL VEHICLE - 1L
Exel power3® FAP (1L) is a CURATIVE treatment and cleaner for diesel vehicles with particle filters.
THE PROPERTIES AND ACTIONS OF EXEL POWER3® FAP CURATIVE: A CURATIVE TREATMENT OF THE PARTICLE FILTER
Reduces the combustion temperature of the soot particles.
Prevents clogging of the particulate filter due to the accumulation of partially unburned particles retained inside the filter by destroying them effectively.
Avoid replacing the particulate filter.
Regenerates and extends the life of the particulate filter.
WHEN TO USE IT?
Particle filter regeneration treatment (1L), high-tech concentrate from petrochemistry:
It is strongly recommended before the technical control.
Used regularly, it avoids expensive maintenance and disassembly.
FOR WHO ?
Curative, the exel power3® FAP cleaner is used for diesel engines.
HOW TO USE EXEL POWER3® FAP CURATIVE:
Exel Power3® FAP CURATIVE comes in the form of a bottle whose contents are poured into your fuel tank.
PHASE 1: Pour the 1 liter flask into the fuel tank (20 to 30 liters)
PHASE 2: Make a minimum 60 km extra-urban route or better, make at least 40 km of motorway at a fairly high speed.
PHASE 3: Drive until the fuel runs out
RECOMMENDATIONS OF USE:
In the case of mainly road or motorway use, repeat the operation every 10 000 km.
In the case of predominantly urban use, repeat the operation every 5,000 km.
Reviews
(1)
B laurent




IP: 109.210.99.234





août 16, 2019




traitement FAP pour diesel

vaut mieux prévenir que guérir....... et ça fonctionne !