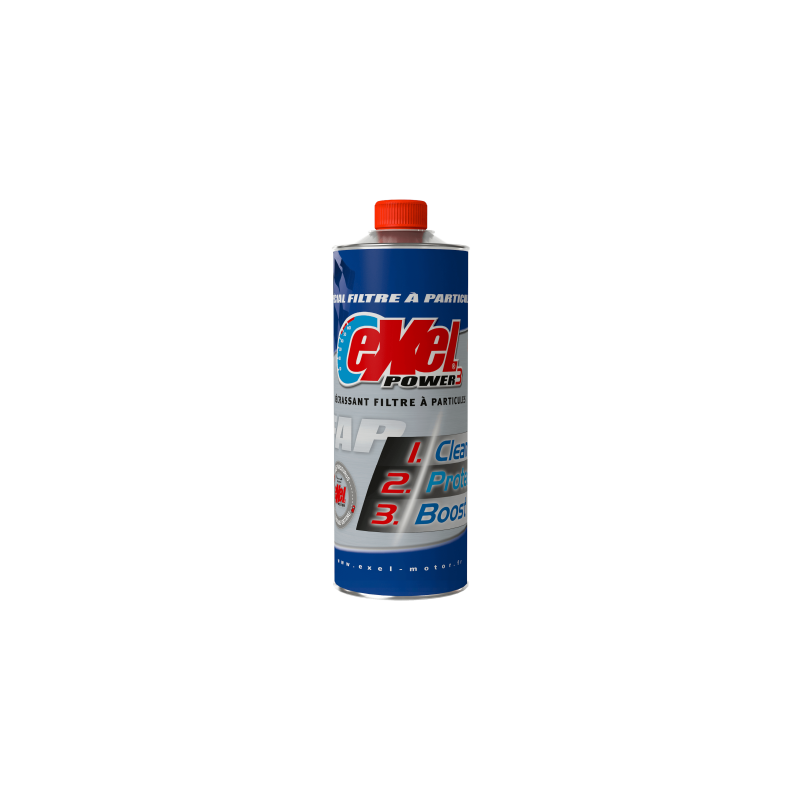  
EXEL POWER3® FAP PREVENTIVE
100% secure payments
FREE SHIPPING FROM 45 € OF PURCHASE !
REGENERATING CLEANER PARTICLE FILTER
DIESEL - 500ml
Exel power3® FAP (500ml) is a PREVENTIVE treatment and a cleaner for diesel vehicles with particle filter.
THE PROPERTIES AND ACTIONS OF EXEL POWER3® PREVENTIVE FAP: PREVENTIVE TREATMENT OF THE PARTICLE FILTER
MAKE REAL SAVINGS
Reduces the combustion temperature of the soot particles.
Prevents clogging of the particulate filter due to accumulation of partially unburned particles.
Avoid replacing the particulate filter.
Allows to burn and destroy more easily the fouling retained inside the filter.
Extends the service life of the particulate filter.
CURATIVE ACTION
Cleans and protects the injectors.
Allows the regeneration of the FAP.
Decrease fuel consumption.
Reduces polluting emissions.
WHEN TO USE IT?
Regenerating particle filter treatment (500ml), high-tech concentrate from petrochemistry:
It is strongly recommended before the technical control.
Used regularly, it avoids expensive maintenance and disassembly.
FOR WHO ?
Preventative, exel power3® FAP cleaner is used for diesel engines.
HOW TO USE EXEL POWER3® PREVENTIVE FAP
Exel Power3® PREVENTIVE FAP comes in the form of a bottle whose contents are poured into your fuel tank.
PHASE 1 :
Put the 500 ml bottle into the fuel tank before refueling. (20 to 40 liters)
PHASE 2 :
Make a 60 km extra-urban or better, make at least 40 km of motorway at a fairly high speed.
PHASE 3 :
Ride until the fuel runs out
RECOMMENDATIONS OF USE:
In case of predominantly road or motorway use, repeat the operation every 5,000 km.
In the case of predominantly urban use, repeat the operation every 2,500 km.
Reviews
(1)
Bonnery Laurent




IP: 194.199.224.130





juil. 9, 2019




Essai sur Alfa Romeo Stelvio 150ch

Absolument ahurissant : le moteur devient plus performant et la consommation de gazole chute de 15% !
A essayer tout de suite, votre moteur vous remerciera.