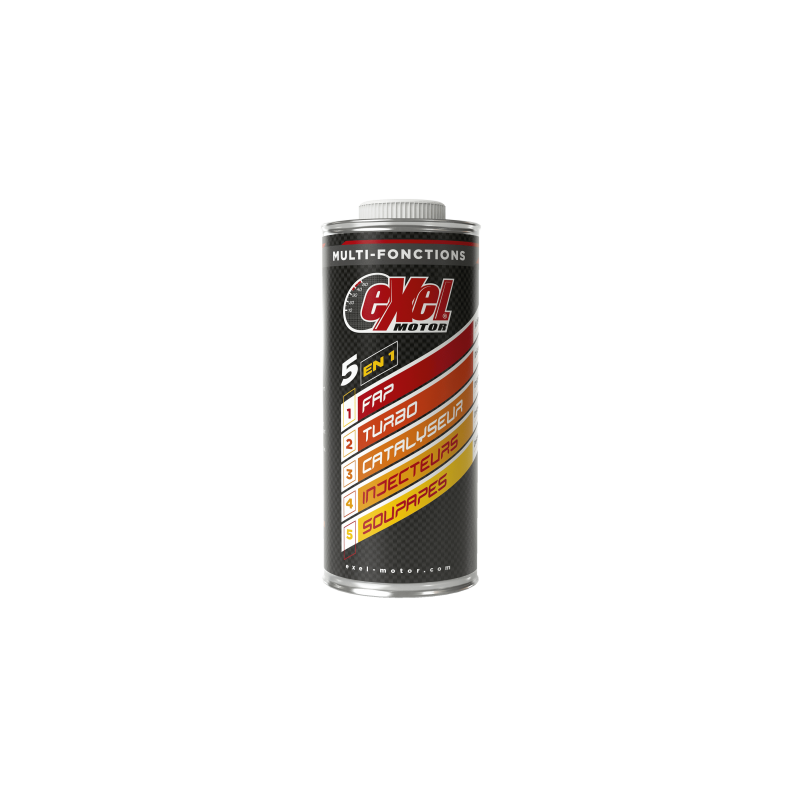  
EXEL MOTOR MULTIFUNCTIONS® 5 IN 1 - 1L
FREE SHIPPING FROM 45 € OF PURCHASE !
REGENERATING CLEANER PARTICLE FILTER
DIESEL - 1L
Exel multifunction 5-in-1 engine is the most complete fuel treatment for diesel vehicles
THE PROPERTIES AND ACTIONS OF EXEL MOTOR® MULTI-FUNCTIONS 5 IN 1: A MULTI-FUNCTION ENGINE TREATMENT SPECIAL TECHNICAL CONTROL
Simple to use, Exel Motor multi-function will bring a new flexibility to your engine and you will reduce your fuel consumption.
A complete scrub
Exel Motor multi-functions 5 in 1 allows a complete removal of 5 organs of your engine, namely the turbo part of the exhaust gases, the catalyst, the valves, the combustion chamber and the injectors.
Visible effects in everyday life
It restores the sealing of the valve seats and makes your engine much more flexible to use and therefore a significant reduction in fuel consumption.
WHEN TO USE IT?
Exel 5-in-1 Multi-function Motor cleans the 5 sensitive parts of the engine (Particulate Filter, Turbo, Catalyst, Injectors, Valves)
Designed for annual use every 10 000km or before your technical inspection
Every 10,000km
Or before your technical inspection
FOR WHO ?
This product is compatible with all diesel / gasoline engines and allows the cleaning of sensitive parts of the engine.
HOW TO USE EXEL MOTOR® MULTI-FUNCTION 5 IN 1?
Our solution comes in the form of a 5-in-1 flask and is used at the same time as a full tank of fuel.
STEP 1: Pour the entire contents of the vial into the fuel tank before refueling.
RECOMMENDATION OF USE:
Once a year or 10,000 km.
Reviews
(0)
No customer reviews for the moment.