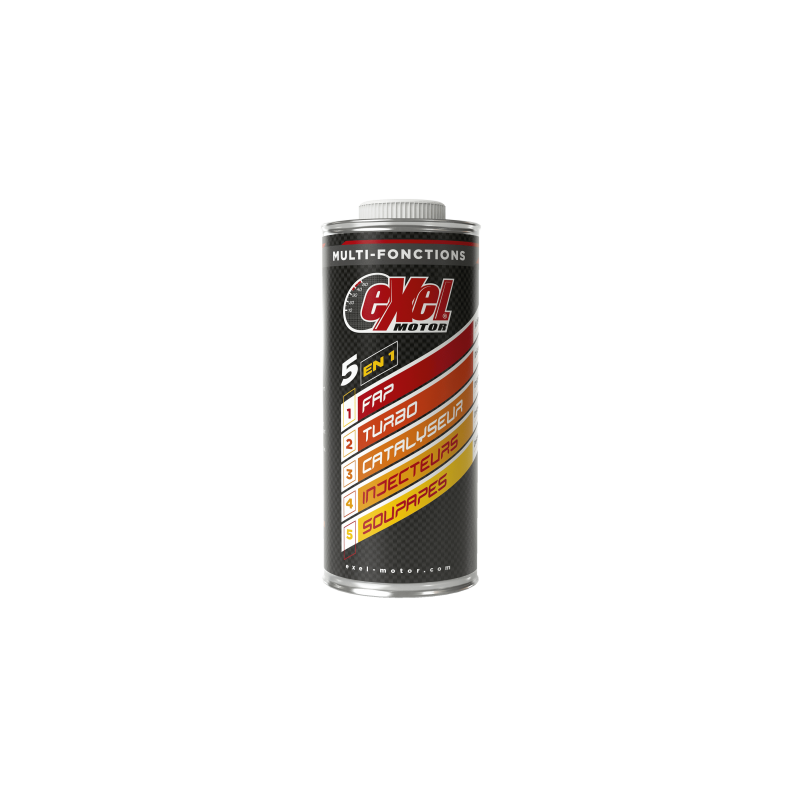  
EXEL MOTOR MULTIFUNCTIONS® 5 IN 1 - 1L
100% secure payments
FREE SHIPPING FROM 45 € OF PURCHASE !
REGENERATING CLEANER PARTICLE FILTER
DIESEL - 1L
Exel multifunction 5-in-1 engine is the most complete fuel treatment for diesel vehicles
THE PROPERTIES AND ACTIONS OF EXEL MOTOR® MULTI-FUNCTIONS 5 IN 1: A MULTI-FUNCTION ENGINE TREATMENT SPECIAL TECHNICAL CONTROL
Simple to use, Exel Motor multi-function will bring a new flexibility to your engine and you will reduce your fuel consumption.
A complete scrub
Exel Motor multi-functions 5 in 1 allows a complete removal of 5 organs of your engine, namely the turbo part of the exhaust gases, the catalyst, the valves, the combustion chamber and the injectors.
Visible effects in everyday life
It restores the sealing of the valve seats and makes your engine much more flexible to use and therefore a significant reduction in fuel consumption.
WHEN TO USE IT?
Exel 5-in-1 Multi-function Motor cleans the 5 sensitive parts of the engine (Particulate Filter, Turbo, Catalyst, Injectors, Valves)
Designed for annual use every 10 000km or before your technical inspection
Every 10,000km
Or before your technical inspection
FOR WHO ?
This product is compatible with all diesel / gasoline engines and allows the cleaning of sensitive parts of the engine.
HOW TO USE EXEL MOTOR® MULTI-FUNCTION 5 IN 1?
Our solution comes in the form of a 5-in-1 flask and is used at the same time as a full tank of fuel.
STEP 1: Pour the entire contents of the vial into the fuel tank before refueling.
RECOMMENDATION OF USE:
Once a year or 10,000 km.
Reviews
(1)
Bardaud Didier




IP: 90.116.84.59





janv. 14, 2022




Efficacité produit Exel Motor

Bonjour, je voulais témoigner de mon expérience après utilisation de vos produits Exel motor. Je possède une ford Mondéo diesel de 2002. Cette voiture était qui fonctionne toujours très bien était refusée au contrôle technique car elle ne passait pas le contrôle pollution. Après recherche et avis sur internet, je me suis intéressé aux produits Exel motor. C'est après avoir contacté Mr BARONI et suivi ses conseil que j'ai utilisé Exel motor à une semaine de la fin de la date de la contre visite du véhicule. Lors du précédent contrôle, l'ordinateur indiquait un taux de pollution de 1.50. La valeur maximale autorisé étant de 0.76. Après utilisation de produits Exel motor adapté par Mr BARONI, et après 100 kms parcouru, la voiture est redescendue à un taux de pollution de 0.50. Encore une fois, merci pour vos conseils et explications, votre réactivité et professionnalisme. Vous m'avez maintenant comme client.